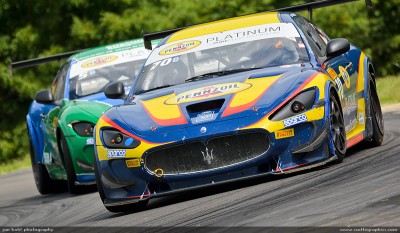 …yes, been posting a lot on Facebook, and not updating the front page of the site. We will compress a few months into a single post to get everything up to speed!
Virginia International: Went to see the Tudor Sportscar series there along with the Maserati Trofeo. Very good weekend, lots of great photos from up at the formerly-known-as-Oak-Tree-Corner Corner. Well, it's still known as "Oak Tree", but there is no oak tree there. It fell down in 2013. At any rate, the action was good, and got a lot of very cool photos. The Maseratis (left) put on a good show, they look good and have a great sound! The Continental Tires race went down to the last lap, again, a lot of great racing.
So next we headed to the Petite Le Mans at Road Atlanta. Never been to that track before, looked around and found some great spots for shooting. The race finished in the dark which allowed me to do some experimentation and get some excellent twilight & nighttime photos! Some great racing and nice weather made for a pretty good weekend.
So all the photos from both events are now loaded, you can see them here (4 pages).